"Nothing would be more tiresome than eating and drinking if God had not made them a pleasure as well as a necessity."
- Voltaire
It's been awhile since I have updated our Blog!! I am sorry. Things have been a bit hectic I suppose. But no worries... you are about to get filled in on everything LOL :)
The opening quote should have been a HUGE tip on the new adventure the twins are embarking. Saturday, January 22, 2008, the twins savored a new beginning, rice cereal.
The paste like substance was merely the first twig on an ever growing tree. Pured veggies, pured fruit, pured rice and chicken, oh the good stuff!! I can't wait until they can try real food like watermelon, shrimp, lobster, fillet Mignon, etc. Their pallets will be mesmerized as flavors dance in their mouths like tiny ballerinas. But until then they are opening their mouths wide for big helpings of nummies.
In fact, they are eating very well. It only took them a few days to get the hang of it. No more pushing out their bite size nummies with their tongues. Yay!! That makes clean up a breeze. Unless we are talking about their diapers...Holy cow!! It's amazing what their little bodies produce. GROSS! ha ha ha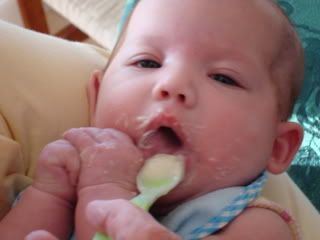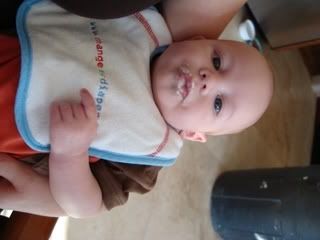 Other then all that good stuff above... the babies have experienced their first cold. Don't worry though, no fevers!! Just lots of little baby boogers and sneezes. They are feeling a lot better now, thankfully.

As a new mom, and a worry wart, I was very scared the first day. Babies don't come with manuals but moms come with the INTERNET!! HAHAHHA I looked everything up that I could. God Bless
WebMD
. I also asked a couple of my gf's who have babies and felt a lot better.

It's truly amazing how quickly babies change and how many milestones they conquer.