As I sat at the table working and watching
Little People, Big World
I received an email from my girlfriend, Ryndi.
She was astonished at the cover of "People" magazine's latest issue. And I can't say I blame her.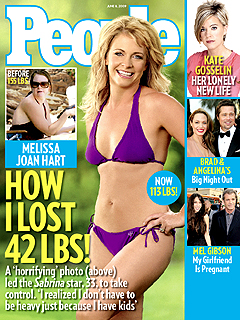 How can someone say weighing 155 lbs is horrifying?! Especially, after having two children.
What I would give to weigh 155 lbs again. Which, by the way, would make me a size 8 which is NOT fat. Not to mention, I know tons of women that feel the same way. Real women. Women who don't have reality blinders on.
Wake up Hollywood!! 155 lbs is NOT horrifying.
It's these "women" that are 98 lbs and skin and bones that is horrifying.
To the people who mocked Melissa Joan Hart for being a healthy weight...go eat a donut!!