Oh how I love to get out of the house and have some adult interaction!! So when Stephanie called and invited the twins and I over for a lunch play date yesterday, I was stoked.

The morning started off well...Feed the twins, then Steph called. GREAT!! She gave me plenty of time to get everything in order.
1. Feed the twins (it's 9am)
2. Give them a bath
3. Get them ready for the day
4. Take a shower, put make up on, get dressed
5. Feed babies
6. Feed & water fur babies (the dogs)
7. LEAVE!! (it's 1:15pm)
So we get to the House of Labonne a little later then planned. Alexandra was being a bit difficult at her lunch feeding. That should have been my indication that things weren't going to be super smooth.
Stephanie greets us at the door and we are promptly welcomed into her home. She has a gorgeous home, by the way.
Off to the kitchen we go!! And there's Mr. Peyton eating his nummies. He is super cute and just 4 months older then the twins so they will grow up together.
As Steph and I eat chips and salsa... Grayson and Peyton get to know one another, again. They have met previously but since they are always changing its always a new introduction. Babies are like sunsets... they technically always the same but different in so many ways.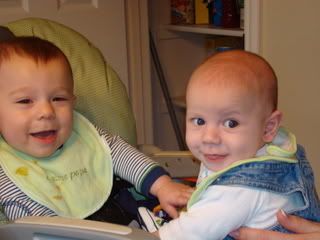 Meanwhile, Alex is sitting contently on my lap as I was telling Steph about how I was a bad finger nail cutter. I not only cut Gray once that day cutting his finger nails, I cut him twice!!! I am so horrible. So she was like, "I am pro!! I will cut them for him." And boy is she a PRO! I am way jealous of her ability to cut the little dagers on the ends of babies' fingers. I think I may hire her. :)
By this time... Miss Lexee Lu Lu is getting fussy. So Aunty Steph takes over and I relocate the boys to living room where they are having a blast!! Giggles and a-goos ran rapid thru the air.


While the boys' happiness ran amock, the cries of diva became overwhelming.
I could not believe her!! She is never this unhappy unless she has a gas bubble which apparently she had a HUGE one. She cried and screamed and cried and screamed for a good 30 minutes. The only way I was able to soothe her was to lay her on my tummy in a "C" snuggle.
So the snuggler, Steph and I ate our burgers and the best Mushrooms ever!!
The Mushrooms were fabulous but hard to describe. The flavors were suttle and the olive oil pure and fine. Just the right amount of spices. The texture of the mushrooms were not like the normal button mushrooms either. They were a super mushroom!! LOL

Then the sandman sprinkled some fine grains of sleep and it was nap time for all. Mr. Pey was first, then Lexee and finally Gray Bug. Nite nite babies...sweet dreams.